A federal judge has granted a temporary order in the case of a Kansas teacher suing her school district over policies requiring teachers to use the preferred names and pronouns of trans-identified students and hide those preferences from parents. 
U.S. District Judge Holly Teeter partially granted a preliminary injunction on behalf of Fort Riley Middle School teacher Pamela Ricard preventing Geary County Schools Unified School District 475 from disciplining her for not referring to a student's preferred name and pronouns in her communications with a trans-identified student's parents "within the regular course of her duties."
The injunction lasts until next Wednesday or "at the conclusion of Plaintiff's contractual responsibilities to the District, whichever is later." The court stated that the motion was issued in light of the fact that the teacher doesn't plan to communicate with a parent to disclose a student's preferred name and pronouns.
Ricard sued Geary County Schools Unified School District 475 after being suspended in April 2021 for three days and given a reprimand because she called a biologically female student by her legal name and used female pronouns.
Ricard's lawsuit names school district board members, Superintendent Reginald Eggleston and Fort Riley Principal Kathleen Brennan.
Teeter, a Trump appointee, found that Ricard "is likely to succeed on her free exercise claim for the Communication with Parent Policy" but denied a preliminary injunction to Ricard's claims against the school district policy requiring teachers to use preferred names and pronouns in class. 
Teeter concluded that Ricard could still be punished under the Communication with Parents Policy, which "prohibits employees from revealing to parents that a student has requested use of a preferred name or different set of pronouns at school" except under certain circumstances.
She wrote that while both parties reached a "détente" rega
rding the Preferred Names and Pronouns Policy, they are "very much at odds over the Communication with Parents P
olicy and the potential for disciplinary action should Plaintiff violate it." The policy prohibits employees from revealing to parents that a student has requested use of a preferred name or different set of pronouns at school "
unless the student requests the administration or a counselor to do so, per Federal FERPA guidance."
"Defendants are ENJOINED from disciplining Plaintiff for referring to a student by the student's preferred name and pronouns in her communications with the student's parents within the regular course of her duties," ruled Teeter.
"The Court relies on Plaintiff's statements that she does not intend to communicate with a parent for the sole purpose of disclosing a student's preferred name and pronouns."
Ricard is represented by the Alliance Defending Freedom, a conservative legal nonprofit based in Arizona that has argued several high-profile religious liberty cases before the U.S. Supreme Court.
ADF Senior Counsel Tyson Langhofer said in a statement Tuesday that he believes the government cannot "force someone to speak contrary to their deeply held religious beliefs and convictions."[NOTE to Parents:Take your heads out of the sand and LOOK at what public education is making YOU pay for.. why keep your kid in that kind of environmentl? - ED]

"Pam has a distinguished teaching career and treats all her students with dignity and respect," the attorney said. "We're pleased the court has freed her to exercise her constitutionally protected freedom to teach and communicate honestly with parents while this case moves forward."
The lawsuit claims that neither the school district nor the school had a "formal policy" in place dictating that teachers use the preferred name and pronouns at the time Ricard was suspended. 
"Instead, Ms. Ricard was suspended and reprimanded under generic school district policies related to Bullying by Staff; Diversity and Inclusion; and Staff-Student Relations prohibiting 'harassment' and 'bullying' of students by staff," the complaint claims. [Oh, Bullshit! ! This is nothing but LGBTQ propaganda aimed at compromising your child's social beliefs and leading them down the wrong path in life. THIS is indoctrination NOT education. - ED]

Will Rapp of the Kansas chapter of the LGBT advocacy group GLSEN believes that not affirming the gender identity of trans-identified children is harmful to trans-identified youth. [
How stupid is this? Simple gender dysphoria is NOT a life changinne experience. Most kids will out gwow it. if left alone. -ED]
"This incident isn't an isolated issue," Rapp told CNN. "According to GLSEN research, more than 40% of transgender students in Kansas report being unable to use their chosen name and correct pronouns in school."
"When educators express this kind of anti-LGBTQ+ sentiment it sends a message that school is not a safe place and many LGBTQ+ youth and especially transgender youth feel unable to approach trusted educators for support."
[Oh, really?! And what do you suppose taking away the teacher's 1st Amendment rights are...?

Rapp also argues that educators "must be held accountable for creating a safe and affirming environment for all students, regardless of gender identity."
The school district argued that a preliminary injunction would hinder its "obligations to protect young persons entrusted to its care." 
"The Court recognizes that the District is trying to create a stable learning environment for children. But the District fails to articulate any specific, concrete harms sufficient to outweigh Plaintiff's weighty interest in preliminary relief," Teeter wrote. "Therefore, the balance of harms favors Plaintiff."
by Techno Fog
We've documented the ongoing battle to obtain Fusion GPS e-mails and documents in the Michael Sussmann case. At issue in the Sussmann case are 38 e-mails and attachments between and among Fusion GPS, Rodney Joffe, and Perkins Coie. These 38 e-mails and attachments are among approximately 1,500 documents that Fusion GPS withheld from production to the grand jury based on "privilege."
What Fusion GPS has to produce.
Today, the court in the Sussmann case made an important ruling and rejected, in large measure, Fusion's assertion of attorney-client or work-product privilege:

Fusion GPS will have to produce these documents to Special Counsel Durham by May 16, 2022. What do these e-mails and documents contain? The court's order provides guidance, stating they relate to:
Internal Fusion GPS e-mails discussing the Alfa Bank data and e-mails circulating draft versions of the Alfa Bank white papers that were "ultimately provided to the press and the FBI."
Here are some examples of what these e-mails might include. These are privilege logs in Fusion GPS's other litigation relating to the Alfa Bank hoax.



The other emails.
This leaves 16 e-mails and documents remaining. For now, Durham will not get them. These are divided into two categories:
Eight of the e-mails involve internal communications among Fusion GPS employees. The court was "unable to tell from the emails or the surrounding circumstances whether they were prepared for a purpose other than assisting Perkins Coie in providing legal advice to the Clinton Campaign in anticipation of litigaiton." Coming from the court, that's a long way of saying that the sworn declarations of Fusion/Clinton lawyers (Levy and Elias) were sufficient to meet the "privilege" burden. This doesn't mean that Durham can't overcome this hurdle - just that it hasn't been overcome yet.

The other eight e-mails and attachments include those among Fusion GPS's Laura Seago, Sussmann, and Rodney Joffe. The court observed that the e-mails are consistent with Joffe's assertion of privilege.
With respect to the Joffe e-mails, we note that he is still a subject - perhaps a target - of the Special Counsel's investigation. Here's a portion of the transcript from an evidentiary hearing in the Sussmann case that discusses their ongoing investigation into Joffe: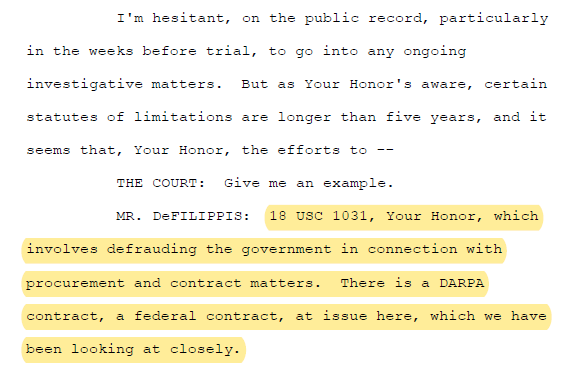 Because the investigation into Joffe is ongoing, it makes sense that the Special Counsel is hesitant to disclose to the court information that could overcome this purported "privilege." Keep in mind the crime-fraud exception, where communications are not considered privileged where they "are made in furtherance of a crime, fraud, or other misconduct" (citation omitted). In other words, the Special Counsel may still be able to get Joffe's e-mails - assuming Joffe is charged under 18 USC 1031. He can also get them through the
grand jury
process, as we saw with Mueller's investigation of Paul Manafort.
1
I'll also add that the fact that privilege applies to some of these documents strengthens the Special Counsel's argument that Sussmann was representing a client when he met with then-FBI General Counsel James Baker in September 2016.
As to the e-mails and documents Durham will obtain, he cannot use them during trial. The court considered Durham's efforts to be too close to the May 16, 2022 trial date to allow these e-mails and documents into trial. I'm not sure that matters. Sussmann is facing a false statement charge, and the court observed these e-mails are not "particularly revelatory."
Finally, while "Court takes no position on the other approximately 1500 documents that Fusion GPS withheld as privileged," we can assume based on this ruling that the majority of those documents would not be privileged. Durham will likely get most of them.
For those interested:
After I wrote this post, New York Times reporter Eric Lichtblau filed this
request for a protective order
. Lichtblau will be called as a witness by Sussmann's attorneys to discuss "communications between Mr. Sussmann and Mr. Lichtblau" - meetings at which Rodney Joffe was present (
that
confidentiality privilege was waived).
The Special Counsel has refused to limit Lichtblau's testimony to that narrow topic: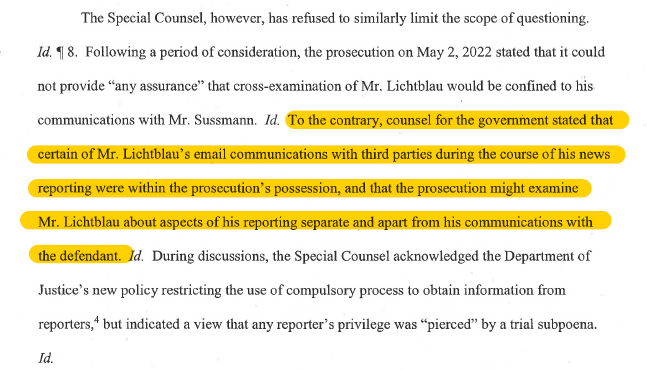 Durham is taking this position because Lichtblau was in contact with Peter Fritsch (and Glenn Simpson) of Fusion GPS leading up to the 2016 election. Fritsch was feeding Lichtblau Fusion "opposition research" (what we might accurately call bullshit), and Lichtblau was at least somewhat receptive, though not salivating like Franklin Foer. These are relevant to the broader "media relations" strategy that Sussmann and Fusion GPS pursued on behalf of the Hillary Clinton campaign.

Here are the e-mails:
This week auditors in New Mexico uncovered a number of material issues in their work to date.  One item that we learned is that the voting system is able to fill out ballots.  Combined with what we knew some time ago, this is devastating. 
This past week auditors in New Mexico identified that the voting systems used in the counties under review have the ability to fill in ballots.  This was noted in the presentation before officials in Otero County, New Mexico.  We then learned earlier today that a prior New York state investigation identified malicious code that could do this.
In addition to this breaking news, TGP identified other system issues within the voting systems.  According to the Dominion website, its election system has the ability to print ballots.
The feature is explained in the Dominion Voting Systems manual on page 30:
4. Alternatively, if allowed by your jurisdiction, use the Automated Test Deck application. This application, available from Dominion Voting, can automatically generate the appropriate test decks and expected results totals.
Georgia purchased the "Automated Test Desk" option according to its procurement document reported at its website.  See the following procurement document – see page 59:
Automated Test Deck Creation – The creation of automated, comprehensive test decks is an optional service provided by Dominion to assist customers in conducting Logic & Accuracy testing. Using the Election Day database, a series of pre-marked ballots are generated based on a computer algorithm designed to provide the highest assurance of system accuracy. When scanned these decks create known outcomes that can be compared with tabulated results. The elimination of error due to mistakes in hand-marking provides a higher degree of
confidence in test results."
There is also evidence that Philadelphia precincts had this option from Dominion also, see page 89.  And Michigan also, see page 37.
The more we investigate and uncover information related to the voting machines and systems used in the 2020 Election, the more that we realize that they never should have been used.  How secure is a voting system from wrongdoing that has functionality in it that allows individuals to create ballots and then fill them out?