by Becker News
Twitter kept secret "blacklists" that included a doctor at Stanford and several prominent conservative voices that suppressed their ability to be found or heard on the social media platform, according to journalist Bari Weiss, founder and editor of The Free Press and former Wall Street Journal and New York Times columnist, who launched the second chapter in Elon Musk's so-called "Twitter Files" Thursday evening.
Weiss tweeted what appeared to be a photo of Stanford University's Dr. Jay Bhattacharya, a professor of health policy, with his account being prominently marked as being under a "Trends Blacklist." Bhattacharya was secretly blacklisted because he "argued that Covid lockdowns would harm children," and was thus unable to trend on the platform, according to Weiss.
In addition to Bhattacharya, Twitter
 placed
 Turning Point USA founder Charlie Kirk under a "Do Not Amplify" notice, while right wing talk radio personality Dan Bongino, who has appeared on Alex Jones' InfoWars, was
 placed
 under a "Search Blacklist," according to Weiss. The practice of limiting the access or reach of users' content, commonly referred to as "shadow banning," is something that Twitter has denied doing in the past, and is referred to internally as "Visibility Filtering" or "VF," Weiss
 reported
.
by the Patriots

We incessantly hear how desirable it is to have a global economy. But why? Well, the answer is simple.  So a select few companies can control everything you buy. Henry Kissinger has said: Whoever controls the food supply controls the People and this will be implemented to the fullest in the Great Reset. Hungry people are easier to control but in order to realize it some societal re-education is required.
Public education exists not to prepare its students to compete for good jobs but to condition them to be tools of the state, to hate freedom, democracy, truth and to conform and obey.  Parents have no right to question the state education system concerning their children.  Parents who choose not to conform will have their children removed as in CPS Seizes 7-Year-Old After Parents Dispute ADHD Diagnosis.
The billionaires of the new world order will determine when you must be vaccinated, what your personal health plan will contain and what you will be allowed to purchase.
Education's psychological conditioning will indoctrinate in all aspects of the new order including approved ecological products as in the EPA's Energy Star program; " The ENERGY STAR mandate served as a Pay To Play toll-booth for all government contracting and services for decades…Built entirely on myth, fraudulent scientific research and bogus technical reports promoted by the media, this secretive program has been mired in scandal and controversy since day one…EPA's ENERGY STAR brand is mandated for use in the USA, Australia, Canada, Japan, New Zealand and the European Union, but not in communist China where the bulk of ENERGY STAR products are produced."
It's not hard to see How a Club of Billionaires and Their Foundations Control the Environmental Movement.  This club is better known as the Committee of 300, a consortium of financial elites involving the Club of Rome, Bilderburg, the CFR, media  and others who benefit by using government to mandate authorization and manufacture of products. The 'official energy brand' is one such item required for electronic manufacturers with the exception of the Chinese who make them.  It's a great con. Use the threat of climate change to de-industrialize North America, manufacture your product in countries with slave labor, then force the people from whom you took the jobs to buy your merchandize. Electronic voting machines will insure that only the globalist hierarchy may be 'elected'. There will be NO manufacturing allowed in the United States.
Drugs and sex trafficking are big business and necessary to subjugate and manage a population. Exposes of abuses are managed: ".. news anchors begin the story by explaining that the station had to go to court just to get permission to air their investigative report, because the State of Kentucky attempted to censor their report from the public." 
The CIA managing the Drug trade is a good example of how the global war on the economy operates.  If you whistle blow on the CIA, expose the money cartel corruption or are in a position to derail their agenda, expect to be murdered as was Dorothy Kilgallen, Gary Webb, Seth Rich, Senator Nancy Schaefer, Terrance Yeakey. Phil Haney and others.
Remember only 6 corporations control 90% of America's news outlets, so don't think they're going to reveal anything meaningful or that you'll get justice in their writings.  Reality is manufactured to manipulate thoughts and emotions. The CIA and media exchange personnel to build the false narratives that drive the world. The media's job is to control what you have access to, think or speak as in "MEDIA: Our Job is control Exactly What people Think"
Now you know the true role that media and its allies play in mind shaping. The CIA and news media work in consort to discredit and destroy populist political opponents with fake news labeling objectors as 'conspiracy theorists 'and lies disguised as news. The big business of globalism manipulates and demeans people, facts, countries and resources for profit for the chosen. "The CIA, which neither anticipated the collapse of the Soviet Union or the "terrorist attack" of 9/11 all-too-often gets things wrong. Its operations around the world have gone far beyond the scope of its charter. The agency exists to protect the secrets of the global money masters and their quest for one world government which of course places them in charge'. Doubt that?  Then ask yourself what reason is there for the CIA building tunnels for ISIS to hide in?  Might it be that we need global threats like climate change and terror to convince the general populace that there is a need for global government to combat them? The CIA doesn't exist to protect America from foreign threats; it exists to protect the elite and their money cartel from the public and those who threaten their monopolies.  
Historically world governance ultimately descends to a fascist dictatorship where there are no rights for anyone except the state.
Idaho legislator works with MassResistance to craft statewide legislation.
Despite opposition from local "transgender" activists and state school counselors group – who are against parents "interfering"!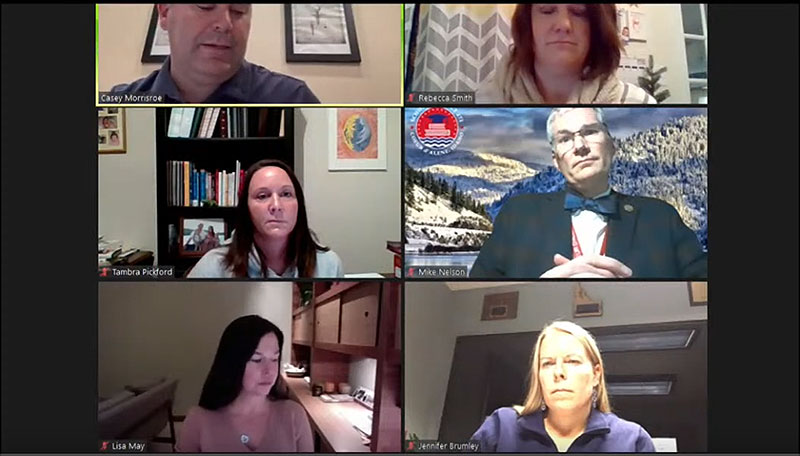 Within days of our report on the outrageous incident, the problem was brought up at the local School Board meeting.
t's one of the most horrific things that's been happening in elementary and middle schools. A child will come to a pro-LGBT school guidance counselor with some social or emotional issue. The counselor will persuade the child that the real problem is that he or she is "gay" or "transgender." But the parents must not be informed about their conversations, the child is told.
By the time the parents find out, an enormous amount of psychological damage has been done to the child. We've seen this scenario over and over. MassResistance is dedicated to stopping this.
In November 2020, a
family in Coeur d'Alene, Idaho contacted MassResistance describing
how their 11-year-old girl had decided she's a "transsexual" after talking with her elementary school counselor. When the family finally heard about this, the girl said that her school counselor and elementary school teacher both completely supported "her decision." The girl insisted that it's "who she is" and that the school people both told her, "I will accept you for who you are."
The school district had not reported any of this to the parents as it was developing. Instead of being directed to her family, the girl was given the phone numbers of local LGBT support groups.
Big uproar across the state
After our report, the incident caused considerable uproar in the Coeur d'Alene area and throughout the state.
National conservative media, including The Daily Citizen and The Federalist, ran stories on it.
The local liberal newspaper attempted to "correct" MassResistance's reporting with statements from the elementary school, an LGBT group, and a pro-LGBT "human rights" group. They claimed that the counselor was actually helping the 11-year-old. The fringe LGBT movement also weighed in, bashing MassResistance. Our reporting apparently struck a nerve!
Two months after the incident, on January 23, 2021, the Idaho LGBT movement
organized an "LGBTQ+ Youth Rally"
at a local park to show support for the elementary school counselor who had helped the 11-year-old girl with her "transition." According to the news report, the rally was also meant to counter the MassResistance report and resulting "homophobia" in the community. Clearly, a big reason was to intimidate anyone who might speak out.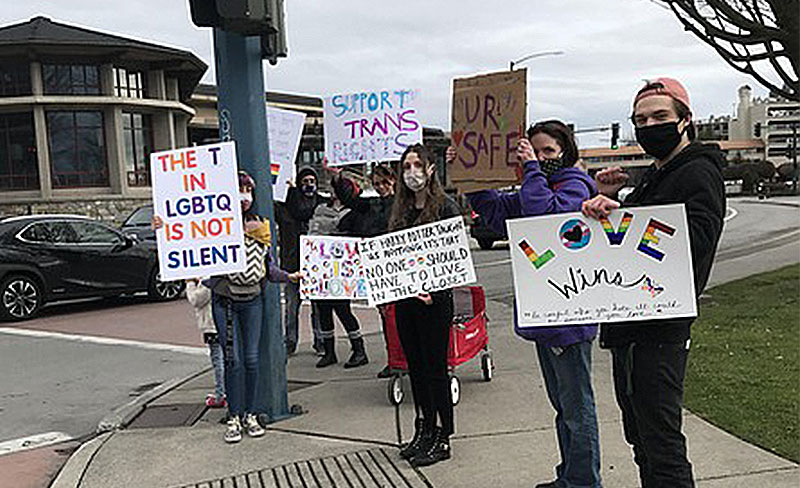 LGBT activists tried to intimidate parents in the community from speaking out. But it didn't work. [Photo: Coeur d'Alene Post Falls Press]
Parents fight back
But among regular people, there was growing outrage over such clear abuse of young children – and a strong belief that something must be done. Idaho MassResistance began mobilizing local parents and others who refused to be intimidated by the LGBT tactics.
Parents started holding protests outside the school district's main office in Coeur d'Alene. They began attending the local School Board meetings in larger numbers. The School Board basically reflected the conservative leanings of the area, and as a group agreed that some change needed to be made. The parents' show of force gave them the courage to move forward in the face of the LGBT movement, the unions, and the leftist education lobby.

Many parents remember when school counselors mainly provided academic counseling and helped with post-secondary and career goals. But in recent years they have taken on mental health and psychological issues, largely in collusion with the LGBT movement and other special-interest groups. (See, for example, this
policy statement
from the American School Counselor Association.) This is what the Idaho MassResistance parents are up against.
A new school counselor policy is passed
At the January 4, 2021 meeting of the the Coeur d'Alene School Board - less than two weeks after our MassResistance report - the Board members reacted to the flood of emails they had received and agreed that they needed to explore what to do about the situation.

In March 2021, the School Board initiated an effort to change the district policy regarding school counselors. The Idaho MassResistance parents continued to push for strong protections, against the hesitations of some board members.
The new policy was drafted by a committee which included a School Committee member, two parents (not part of our group), an administrator, and three school counselors.
In October 2021, the new proposed policy language was released to the public for consideration. The draft still contained troubling language. Idaho MassResistance presented these critiques to the School Board members: 

The policy says that the counselor's role is to "balance" the student's privacy rights with the parents' rights, which the counselor decides upon. But there should be no "balance." The student is a minor. The parents must be told about everything. It's wrong to allow this secretive relationship to emerge and continue with school counselors. The result would be no trust between parents and the school.
The policy states, "School Counselors connect students and families to outside resources and agencies." That has traditionally translated into sending kids to LGBT groups and abortion clinics. If anything, the counselors should only suggest these outside groups to the parents and let them decide.
Nevertheless, in February 2022, the school board formally approved the new policy. It's not everything that we wanted. But it definitely is a shot across the bow – a strong warning to the school counselors in that city – to absolutely stop what they've been doing to children. Parents feel that MassResistance has helped them achieve a victory.

The Idaho School Boards Association jumps into the fight
When the Coeur d'Alene School Board released its proposed policy, the education establishment apparently got the message that they needed to quash this "anti-counselor" movement before it got any more momentum.
Two months later, on December 2, 2021, the Idaho School Boards Association (ISBA) voted by an overwhelming 7885-21 to pass a strongly worded resolution supporting school counselors.
The resolution directs the ISBA lobbyists:

"to work with the legislature to amend existing statute to allow school districts more flexibility in addressing the mental, social, and emotional needs of students …"
In other words, they want to write new state laws to keep parents from interfering with any secret LGBT counseling of children.
So far, the ISBA hasen't moved forward by drafting a bill. But the group's lobbying did impact what was to happen next in the legislature.
The State Legislature also gets involved

The outrage over the Coeur d'Alene issue even reached the State Legislature. In mid-February, an Idaho State Representative asked MassResistance for help in drafting a bill to protect children from this abuse. We submitted the following, which she moved forward with:
School counseling educational services provided by a school to a student addressing mental or behavioral health, including short-term individual or short-term small group school counseling services, are subject to parental disclosure and informed consent. 
Parental notification shall take place once a school counselor has recognized mental health warning signs; informed consent shall be obtained prior to any subsequent school counseling services for the purpose of addressing those mental health warning signs. A school counselor may provide parents with contact information for available community resources from a list of licensed, professional mental health providers in the area, which providers may request to be included on the list and shall not be excluded for the reason that the provider is a religious or faith-based organization.
But as soon as word got out about this new bill, the ISBA and state school counselors association heatedly approached the House leadership. They made absurd and insulting claims that if parents are told about their childrens' homosexual or transgender "decisions," the children will commit suicide. Floating this myth is unfortunately a common tactic used by the LGBT movement, though it goes against all responsible psychological understanding and practice. But the legislative leaders fell for it and immediately killed the proposed bill.

Since the legislative session was winding down, we will wait until next year and refile then. We're not stopping.
Final thoughts
In the beginning, nobody believed that the Coeur d'Alene School Board would actually change anything. Even though it's a conservative area, the Board members weren't looking to make any waves on this hot-button issue. The policy changes were a direct result of the Idaho MassResistance parents being tireless and simply not giving up. At a certain point, the School Board basically gave in and acted.
Some locales where this is happening will be harder to change than others. But no matter how difficult, this is what needs to be done everywhere in America.
A
Florida second grader who has been suspended 38 times
for refusing to wear a mask to school confronted her local school board — and asserted that they should be in jail. Fiona Lashells, who just turned 8 years old, told the Tampa Bay school board in no uncertain terms how she felt about their rules.
She is "on a mission to take back, not only her rights but every American child's constitutional rights from the tyrant school board," her mother, Bailey Lashells, told 
The Free Press
.
Fiona isn't taking the suspensions lying down either, she has now spoke at her school board meetings twice — directly confronting those who are ruining her education.
Speaking at a school board meeting for the second time, the brave elementary school student said that she believes masks are dirty and pointless.

Fiona asserted, "ok yeah, I hope you all go to jail for doing this to me," to huge applause from the crowd. She added that her family is very proud of her and that the rules "suck."
"I'm doing it for other kids and not just myself," Fiona told Fox 8.
Fiona's mother says that her daughter has now been told that she will fail the second grade, despite completing all of her assignments.
"Fiona is a strong-minded and fearless young girl who was ready to conquer the world at 7," she told the newspaper. "Unfortunately, the blows just seem to not stop as she was recently told after completing every assignment her teacher will provide that she is not only failing 2nd grade but that there is no way she could catch up, per her teacher."