Don't hold your breadth until this report actually comes out. There are many special interests on both sides of the aisle that do not wish to thoroughly reveal the rampant corruption involved through out the state. However, we will do what we can to expose it all where ever the data leads. - ED

The Arizona audit results are set to be released next Friday, September 24th at 1:00.
Arizona Senate President Karen Fann told The Gateway Pundit that the audit report will be presented on the Arizona Senate floor.
OANN correspondent Christina Bobb reported the following.
The truth is coming next week.
Yesterday, the Maricopa County Board of Supervisors quietly held a special meeting to discuss the deadline to turn over the subpoenaed information.
The gateway pundit reported that Maricopa County was given 30 days to comply with Senate subpoenas or lose millions in state shared revenues. This was 21 days ago.
The audit results are expected to be earth-shattering.
Arizona State Senator Wendy Rogers told TGP that criminal wrongdoing will be referred to the Attorney General.
by Pam Geller
Staple Street owns Dominion and is a relatively small private equity company, who has not raised capital or had substantial new investors since 2014/2015 of about $200 million. But now after a rushed Delaware Corp., filing October 5, 2020, Staple notified U.S. SEC 10/08/20 they're expecting $800 million minimum. Yet Staple Street's website is suddenly shut down, except for the base page.
"
Staple Street Capital is a private equity firm founded in 2009 based in New York. The co-founders Stephen D. Owens and Hootan Yaghoobzadeh are veterans of The Carlyle Group and Cerberus Capital Management, also the Board members of Dominion Voting. The official website of Staple Street Capital has deleted the team introduction
"
It is absurd and outrageous that a United States elections system is hidden inside of a NY private equity fund.
https://warren.senate.gov/imo/media/doc/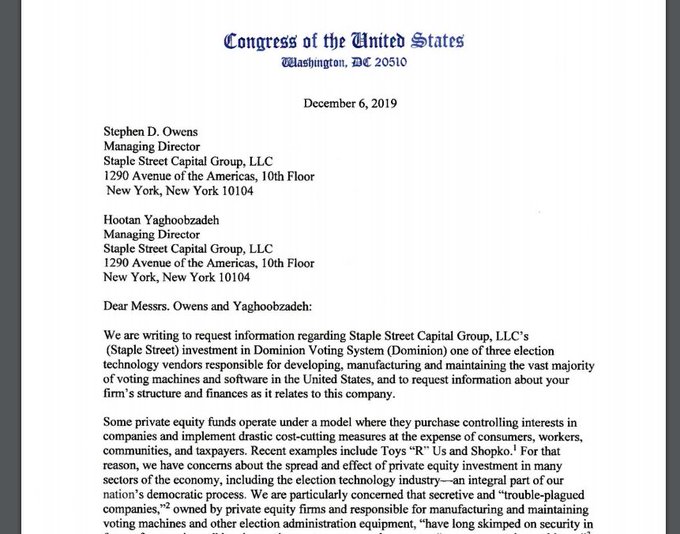 Note: Maybe we now know why Staple shut down most of their website to hide portfolio holdings especially Dominion as

well as indicating William E. Kennard is an Executive Board Member of Staple Street Capital who worked for The Carlyle Group and served as Bill Clinton's FCC Chairman until 2001
. Nominated as ambassador to the EU by Barack Obama in 2009, he was managing director of the Carlyle Group(2001-2009) where he led investments in the telecommunications and media sectors. -
ED