by Ryan Foley
Just three weeks after a video of himself forcefully telling local authorities seeking to enforce coronavirus restrictions to leave his church and comparing them to Nazis and the Gestapo went viral, a Canadian pastor has shared a video documenting another such visit to his church.
In a video posted to YouTube Saturday, Artur Pawlowski, pastor of Street Church in Calgary, Alberta, Canada, documented how "The Gestapo came again attacking the church!"
Two days after its posting, the video has received more than 130,000 views on YouTube as of Monday afternoon.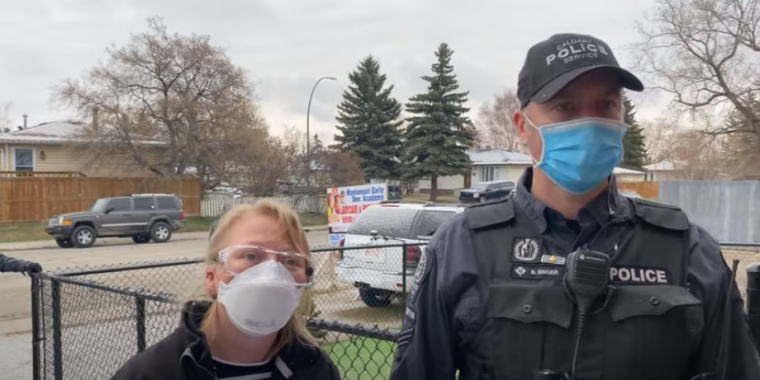 Ezra Levant, the founder of Rebel Media who amplified Pawlowski's previous encounter with law enforcement on Easter weekend, posted a shortened version of the video to his Twitter account, which has amassed more than 237,000 views.
"I cannot believe that after the last fiasco on Easter weekend — that went viral globally — the thugs from @CalgaryPolice have returned, during a church service to the same church. With more cops, with more guns. They truly hate Christians and it shows," Levant tweeted.

While the first video began with Pawlowski forcefully telling a public health officer and local law enforcement to leave, the second video began with Pawlowski calmly greeting the officials at the front door.
The public health officer presented Pawlowski with a warrant, possibly hoping to avoid the type of confrontation that unfolded three weeks ago. He told them not to come back without a warrant.
As he videotaped the encounter, one of the police officers accompanying the public health officer told Pawlowski, "you don't have to get into her personal space," as he attempted to zoom his phone in on the paperwork.
"You're in my personal space," Pawlowski responded.
When the public health officer requested the opportunity to "explain" why she was there, Pawlowski remarked that he was "not really interested in what you have to say." He agreed to read over the paperwork she gave to him.
"What we want to do is make sure that we're not going to disrupt any of the religious service," she said. She expressed a desire to "explain the order, serve the order and then we can stand in the back."
"No, no, no, no, no, no! You can contact my lawyer," he replied. "My lawyer takes care of this. I'm not interested to listen to any word you have to say. I do not cooperate with Gestapo. I do not talk to the Nazis. You came in your uniforms like thugs. That's what you are."
Pawlowski also referred to the officials as "brown shirts" and "Nazi Gestapo communist fascists," reiterating that "I do not cooperate with Nazis."
He urged the officials to "talk to my lawyer," informing them that "You're not allowed here, you're not welcomed here, and I'm not going to cooperate with Gestapo like you."
"Is that fair enough for you?" he asked. As the public health officer reiterated her desire to "explain a little bit about
the order" and "at least have a conversation," Pawlowski told her, "I'm not interested in talking."
"This is what the Gestapo is doing," he asserted. "You come into the place of worship to intimidate and to harass. So you can make an appointment."
As the public health officer continued to plead with Pawlowski, he told her, "Lady, listen to me!"
"You can make an appointment another day," he added.
The public health officer informed him, "You don't need to shout."
"Another day! Not this day! Not this day! Not during the church!" he yelled.
"You understand? Make an appointment!" he continued as the public health officer and the police officers began to walk away. She indicated an inaudible desire to comply, to which he retorted, "Okay! So go!"
The police officers told Pawlowski, "See you later" and "Have a good day" as he continued to scream at them.
Diane McDaniel reveals struggles of coping with mental illness, how family and churches can help
"You are sick! That's what you are. And rightfully so, you change your uniforms to black because
acting like the Gestapo of old," he insisted. 
Pawlowski turned the camera back on himself, arguing that it was "sickening what this country came to."
He lamented that government officials were "coming to the place of worship with their uniform, with their guns again, again, during the time of worship."
"They could do it another time. They could do it another day. No, they are following the orders of their Fuhrer, Hitler," he asserted.
Describing them as "communists" and "wicked, evil people," Pawlowski warned that "If Canadians will not rise up and stand up, if they will not come to their senses while there is still a time … to wake up and push this evil, there will be absolutely no … rights whatsoever."
"If they can get away with this, they're going to come anywhere else," he predicted. "Do you think that they are here for your health, seriously? They could come any day of the week. They could call me. They could say, 'hey, we want to inspect your facility, we want to come.' No, no, they want to do it during the church service because they have a purpose, they have an agenda."
"If you are not seeing it, then you are playing either stupid, blind and deaf. I have been warning you for 16 years about what's coming, and it's here," he argued. "Those types of people will never stop. They're going to keep coming, keep coming, keep taking your rights one after another."
Urging Canadians not to "bow to the medical tyranny," he stressed that "they're coming for everything."
"Wake up or else," he exclaimed, claiming that "they're pushing for a revolution."
"I truly believe that they're pushing so hard because they want a reaction, they want a martial law, they want a revolution, they want to come heavy on the people and they're not stopping," he concluded.
"That's the scary part. They're not stopping. They're … not slowing down. They're breaking every right under our constitution, the Charter of Rights and Freedoms. They are breaking it in front of our eyes. And it looks like they can get away with the murder. They can get away with anything."
Pawlowski suggested that politicians who support the restrictions on places of worship should be charged with treason because "what they're doing is illegal, unconstitutional, [and] against the people."
According to Pawlowski, "They're not serving people anymore. They are working against the people."
Pawlowski is not the first Canadian pastor to face adverse treatment for failure to abide by coronavirus restrictions.
Canadian pastor James Coates spent time in jail for not following the worship restrictions imposed on churches due to the coronavirus pandemic.