Gaige Grosskreutz chased down Kyle Rittenhouse in Wisconsin last year and attempted to shoot him before Rittenhouse blew his bicep away.  Why has Grosskreutz not been charged with attempting to kill Rittenhouse?
This past week we saw in the court case where Kyle Rittenhouse is charged with murder, that Rittenhouse was acting in self-defense.  We also saw the case fall apart as one of Rittenhouse's assailants admitted to pointing his guy at young Rittenhouse before he was shot.
NBC portrays Grosskreutz as a "paramedic who was shot by Kyle Rittenhouse at a police brutality protest in August 2020".  But it's unknown when was the last time Grosskreutz worked as a paramedic.  We also know that this was not protest.  Agitators like Grosskreutz were carrying guns and setting fires to the city of Kenosha, Wisconsin last year.
What we do know is that this isn't the first time Grosskreutz has played the victim related to this case.  He went on CNN and did this last year
.
Suspect Gaige Grosskreutz Who Has a Record, Carried a Gun and Regrets Not Shooting Kyle Rittenhouse, Runs Free in Wisconsin – How Come?




It's time law enforcement in Kenosha stop playing politics and start enforcing the law against criminals and not individuals running for their lives from hoodlums trying to burn down the city.
On Tuesday, opening statements in the trial of Kyle Rittenhouse, an18-year-old aspiring police officer accused of fatally shooting two men and wounding a third on the night of Aug. 25, 2020, as BLM riots raged in the streets of Kenosha in response to a white-on-black police shooting.
While prosecutors have slapped the teen with two counts of homicide and one count of attempted homicide, Rittenhouse has pleaded not guilty to all charges, claiming self-defense.

Now, new footage has emerged which bolsters his case.
Before the shooting began, Rittenhouse, 17 at the time, was had arrived in Kenosha in order to help keep order and protect businesses from looting and arson.
"People are getting inured, and our job is to protect this business, and part of my job is also to help people. If there's somebody hurt, I'm running into harm's way. That's why I have my rifle, because I need to protect myself obviously. But I also have my med kit," Rittenhouse said in footage recorded before the incident.

During the course of the evening, protesters became increasingly violent against Rittenhouse and the group he was with – eventually chasing the teen down the street when protester Joseph Rosenbaum was shot dead in the parking lot of a used car dealership. Shortly thereafter, Rittenhouse could be seen defending himself on the ground from multiple attackers – when he fatally wounded another, and shot the bicep of protester Gaige Grosskreutz who had drawn a pistol and was in the

process of aiming it at the teen.
.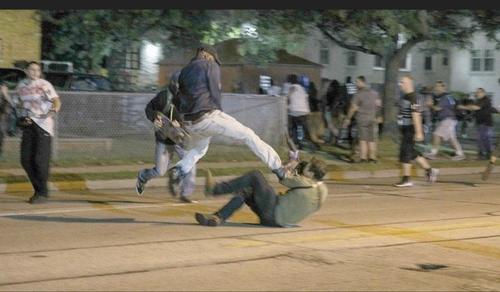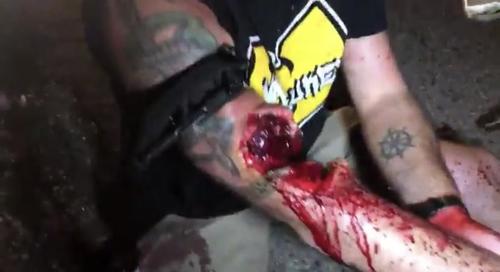 Rittenhouse shot the bicep of Gaige Grosskreutz, a volunteer medic for Black Lives Matter who was in the process of aiming his pistol at the teen
I will. In the first photo, we see one of the men bludgeoning Kyle Rittenhouse with his skateboard. In the other two photos, we see a man who—as Rittenhouse is laying on the ground—draws a pistol in an attempt to murder Rittenhouse, only to be shot himself.
Read More