by Mike DeForest,
Council member to be 'ousted' from seat after opponent challenged election results
EATONVILLE, Fla. – More than 19 months after Tarus Mack was certified the winner of an Eatonville Town Council election, a judge has ordered Mack to be removed from his position due to evidence uncovered by his opponent suggesting votes were illegally cast or procured.
I was very ecstatic," Marlin Daniels said, who learned this week he had prevailed in his lawsuit challenging the election results. "Immediately I said, 'Let's get to work.' We have to fix things that have been going wrong in this historic town and make things right, not for me, but for the people."
Days after a judge ruled Daniels was entitled to the Eatonville Town Council seat, Mack filed a motion asking for a new trial.
Neither Mack nor his attorney responded to phone calls and emails from News 6 seeking comment.
"There were both illegal votes as well as fraudulent votes cast in this election. And for those familiar with local politics, that was not a surprise," said Daniels's attorney, Christian W. Waugh. "Those votes have now been removed from the tally. And because of that, my client, Marlin Daniels, is now going to be a public servant for the Town of Eatonville."
In March 2020, Eatonville voters went to the polls to decide whether Mack should retain his seat on the town council.
After the voting results were tallied, it appeared Daniels had defeated the incumbent by a single vote.
But following a recount by the Orange County Canvassing Board, court records show two previously uncounted votes were discovered, giving Mack a 269-to-268 vote victory.
Daniels filed a lawsuit in April 2020 contesting the election. Mack and the Orange County Canvassing Board were named as defendants.
Orange County Circuit Court Judge Kevin Weiss held a non-jury trial earlier this month, where several witnesses were called to testify.
One of them, William Sheketoff, said he had been living in a motel owned by former Eatonville mayor Anthony Grant.
Sheketoff, who was behind on his rent payments and at risk for eviction, claims Grant offered to drive him and another tenant to a polling location on election day and coerced them to vote for Mack, according to an affidavit.
"[Grant] gave both of us 'sample ballots' with Tarus Mack and [another candidate] highlighted in yellow stating, 'This is who I would like you to vote for" and drove us to Town Hall," said Sheketoff. "I realized that he expected me to vote for Tarus Mack… or I would be evicted."
About a week after the election, Sheketoff said Grant locked him out of his room at the motel but did not initiate a formal eviction.
Grant declined to comment on the matter. When asked by a News 6 reporter if he denied Sheketoff's allegations that he interfered in the election, Grant hung up the phone.
Few people have the ability to face and except the depth of evil in the world in which we live, Dr. Anthony Fauci is the face of such evil.
by Dr. Joseph Mercola w/ Robert F. Kennedy, Jr. 
You can down load the download the interview transcript
 This interview is an open book exposing the evils of a man that eclipse the rein of any tyrant that has ever lived and the support system that embraces this psychopath. . A true threat to every man woman and child on the face of this planet.
The Real Anthony Fauci: quite possibly the most evil person alive today
STORY AT-A-GLANCE
Fauci is the highest-paid federal employee in the U.S., and 68% of his $437,000 a year salary comes from bioweapons research

Instead of safeguarding public health, Dr. Anthony Fauci turned the National Institutes of Health into an incubator for pharmaceutical products, and essentially sold the entire country to the drug industry

Fauci has had a hand in creating the vaccine gold rush. In 2000, he met with Bill Gates, who asked to partner with the NIH in an agreement to vaccinate the world with a battery of new vaccines. In 2009, this agreement was rebranded as "The Decade of Vaccines," the objective of which was to implement mandatory vaccinations for every adult and child on the planet by the year 2020

One of the darkest stains on Fauci's career, aside from his role in the COVID pandemic, was his handling of the HIV epidemic. Suppressing the use of repurposed drugs, Fauci zeroed in on AZT, a toxic drug that has killed an estimated 300,000 AIDS patients

The similarities between the AZT scandal and what's happening today with the COVID jab and remdesivir are striking. Again, Fauci has suppressed all treatments using inexpensive and nontoxic drugs. U.S. taxpayers have paid for research, while drug companies have raked in the profits, all while having zero liability for injuries and deaths
https://truthcomestolight.com/the-real-anthony-fauci/?fbclid=IwAR2oc8fdT7kF9-sarJ1CSd_ukHPWNaOAl19d__58uclPUNjDgszIGSbHioY
by Ryan Foley
Just three weeks after a video of himself forcefully telling local authorities seeking to enforce coronavirus restrictions to leave his church and comparing them to Nazis and the Gestapo went viral, a Canadian pastor has shared a video documenting another such visit to his church.
In a video posted to YouTube Saturday, Artur Pawlowski, pastor of Street Church in Calgary, Alberta, Canada, documented how "The Gestapo came again attacking the church!"
Two days after its posting, the video has received more than 130,000 views on YouTube as of Monday afternoon.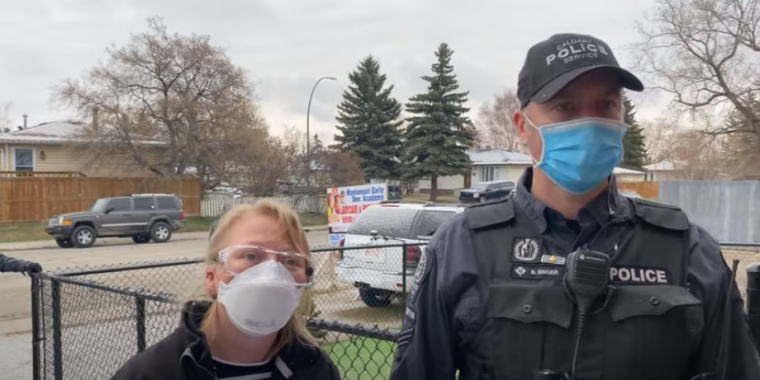 Ezra Levant, the founder of Rebel Media who amplified Pawlowski's previous encounter with law enforcement on Easter weekend, posted a shortened version of the video to his Twitter account, which has amassed more than 237,000 views.
"I cannot believe that after the last fiasco on Easter weekend — that went viral globally — the thugs from @CalgaryPolice have returned, during a church service to the same church. With more cops, with more guns. They truly hate Christians and it shows," Levant tweeted.

While the first video began with Pawlowski forcefully telling a public health officer and local law enforcement to leave, the second video began with Pawlowski calmly greeting the officials at the front door.
The public health officer presented Pawlowski with a warrant, possibly hoping to avoid the type of confrontation that unfolded three weeks ago. He told them not to come back without a warrant.
As he videotaped the encounter, one of the police officers accompanying the public health officer told Pawlowski, "you don't have to get into her personal space," as he attempted to zoom his phone in on the paperwork.
"You're in my personal space," Pawlowski responded.
When the public health officer requested the opportunity to "explain" why she was there, Pawlowski remarked that he was "not really interested in what you have to say." He agreed to read over the paperwork she gave to him.
"What we want to do is make sure that we're not going to disrupt any of the religious service," she said. She expressed a desire to "explain the order, serve the order and then we can stand in the back."
"No, no, no, no, no, no! You can contact my lawyer," he replied. "My lawyer takes care of this. I'm not interested to listen to any word you have to say. I do not cooperate with Gestapo. I do not talk to the Nazis. You came in your uniforms like thugs. That's what you are."
Pawlowski also referred to the officials as "brown shirts" and "Nazi Gestapo communist fascists," reiterating that "I do not cooperate with Nazis."
He urged the officials to "talk to my lawyer," informing them that "You're not allowed here, you're not welcomed here, and I'm not going to cooperate with Gestapo like you."
"Is that fair enough for you?" he asked. As the public health officer reiterated her desire to "explain a little bit about
the order" and "at least have a conversation," Pawlowski told her, "I'm not interested in talking."
"This is what the Gestapo is doing," he asserted. "You come into the place of worship to intimidate and to harass. So you can make an appointment."
As the public health officer continued to plead with Pawlowski, he told her, "Lady, listen to me!"
"You can make an appointment another day," he added.
The public health officer informed him, "You don't need to shout."
"Another day! Not this day! Not this day! Not during the church!" he yelled.
"You understand? Make an appointment!" he continued as the public health officer and the police officers began to walk away. She indicated an inaudible desire to comply, to which he retorted, "Okay! So go!"
The police officers told Pawlowski, "See you later" and "Have a good day" as he continued to scream at them.
Diane McDaniel reveals struggles of coping with mental illness, how family and churches can help
"You are sick! That's what you are. And rightfully so, you change your uniforms to black because
acting like the Gestapo of old," he insisted. 
Pawlowski turned the camera back on himself, arguing that it was "sickening what this country came to."
He lamented that government officials were "coming to the place of worship with their uniform, with their guns again, again, during the time of worship."
"They could do it another time. They could do it another day. No, they are following the orders of their Fuhrer, Hitler," he asserted.
Describing them as "communists" and "wicked, evil people," Pawlowski warned that "If Canadians will not rise up and stand up, if they will not come to their senses while there is still a time … to wake up and push this evil, there will be absolutely no … rights whatsoever."
"If they can get away with this, they're going to come anywhere else," he predicted. "Do you think that they are here for your health, seriously? They could come any day of the week. They could call me. They could say, 'hey, we want to inspect your facility, we want to come.' No, no, they want to do it during the church service because they have a purpose, they have an agenda."
"If you are not seeing it, then you are playing either stupid, blind and deaf. I have been warning you for 16 years about what's coming, and it's here," he argued. "Those types of people will never stop. They're going to keep coming, keep coming, keep taking your rights one after another."
Urging Canadians not to "bow to the medical tyranny," he stressed that "they're coming for everything."
"Wake up or else," he exclaimed, claiming that "they're pushing for a revolution."
"I truly believe that they're pushing so hard because they want a reaction, they want a martial law, they want a revolution, they want to come heavy on the people and they're not stopping," he concluded.
"That's the scary part. They're not stopping. They're … not slowing down. They're breaking every right under our constitution, the Charter of Rights and Freedoms. They are breaking it in front of our eyes. And it looks like they can get away with the murder. They can get away with anything."
Pawlowski suggested that politicians who support the restrictions on places of worship should be charged with treason because "what they're doing is illegal, unconstitutional, [and] against the people."
According to Pawlowski, "They're not serving people anymore. They are working against the people."
Pawlowski is not the first Canadian pastor to face adverse treatment for failure to abide by coronavirus restrictions.
Canadian pastor James Coates spent time in jail for not following the worship restrictions imposed on churches due to the coronavirus pandemic.