by News Editors
(Natural News) According to the State of Colorado — and The Associated Press and the New York Times! — the official results for the GOP primary race for Secretary of State have Pam Anderson winning with 43% of the total vote, and Tina Peters second with 28% — but the real story was that Australian businessman Mike O'Donnell had picked up 28% himself, and might actually beat Tina Peters too.
(Article by Emerald Robinson republished from EmeraldDB3.Substack.com)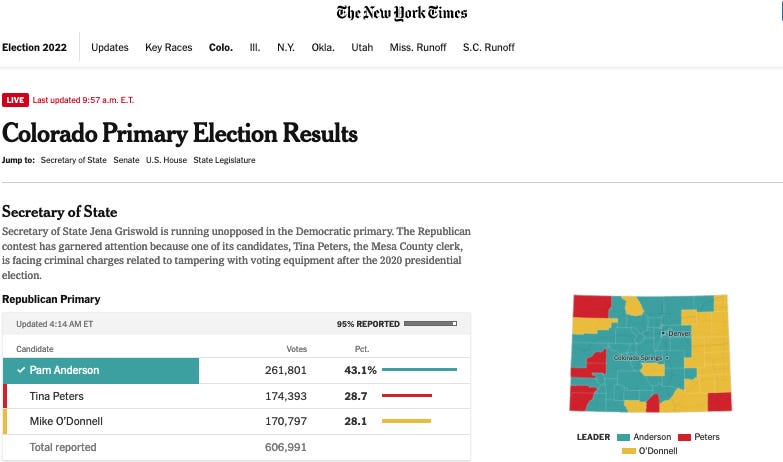 I wanted to know more about Mike O'Donnell because I had never heard of Mike O'Donnell.
In the most high-profile race in America for the office of Secretary of State, a candidate who had become a national political figure, who had the highest name recognition, who outraised both of her opponents by 3 to 1, who spoke at rallies with President Trump, who was the obvious frontrunner — that person didn't just lose, but she tied with a guy who had none of those things in a GOP primary.
I didn't even know that Mike O'Donnell was running in the race until I saw the race results. How did an unknown candidate like Mike O'Donnell manage to garner as many votes as a national political figure like Tina Peters?
This question, ladies and gentlemen, is what leads you down the rabbit hole of America's bogus election system.
I went looking, in other words, for Mike O'Donnell's 170,000 supporters in Colorado.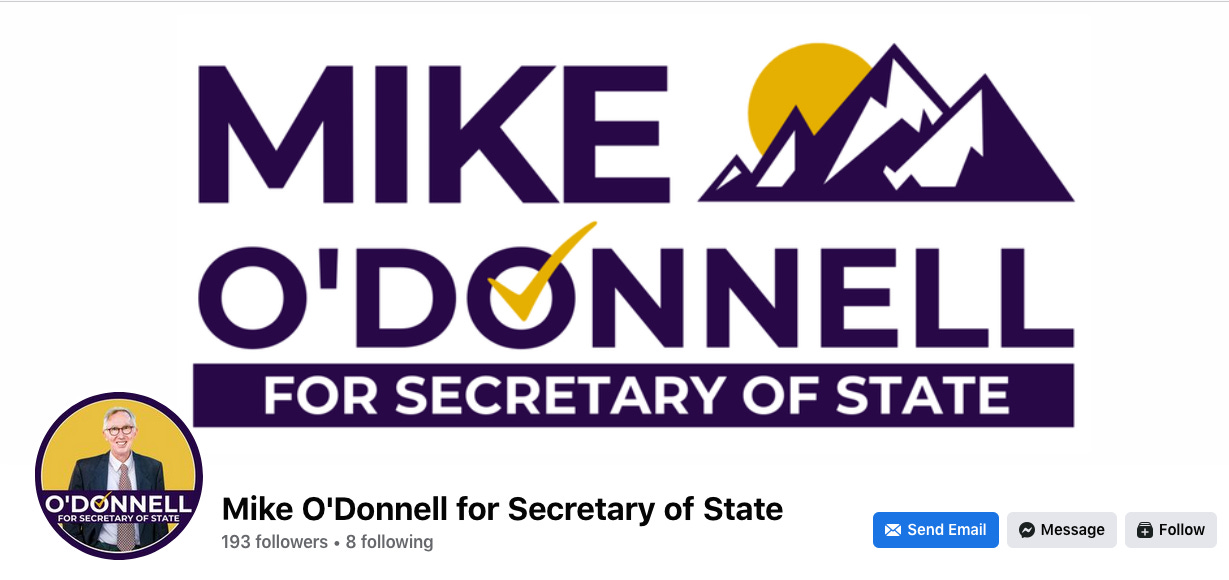 I didn't find them on Facebook — only 193 people were following his campaign page.
Mike O'Donnell's 170,000 supporters were not hiding on Twitter either — just 560 of them were following his campaign at all. The day before the election, his last tweet managed to get 4 "likes."
That's the
 most interaction
 that his campaign Twitter account got — 
ever.
Mike O'Donnell sent out 1,306 tweets on his account and the vast majority of them got: 0 Likes — and 0 Retweets — and 0 Comments. There was no interaction on his Twitter account because nobody was voting for Mike O'Donnell.
How about fundraising? According to Colorado Public Radio News, Mike O'Donnell had managed to raise $4,700 for his campaign three weeks before the primary.
And yet on election day, Mike O'Donnell got nearly a third of the total vote and over 600,000 people voted in that race. More than 170,000 Colorado voters suddenly appear out of nowhere for Mike O'Donnell.
So many people suddenly appear for Mike O'Donnell
that 
he actually wins 
17 counties in Colorado.
Mike O'Donnell is the outright winner in Jackson County (43%) and Rio Blanco County (37%) and Conejos County (41%) and Fremont County (34%) and Las Animas County (36%) and Prowers County (37%) and Bent County (34%) and Otero County (40%) and Kiowa County (38%) and Lincoln County (39%) and Cheyenne County (40%) and Kit Carson County (42%) and Yuma County (43%) and Washington County (40%) and Morgan County (38%) and Phillips County (34%) and Sedgwick County (38%) according to the New York Times .
Here's a screenshot of those wins county by county for Mike O'Donnell (in yellow) from the New York Times today.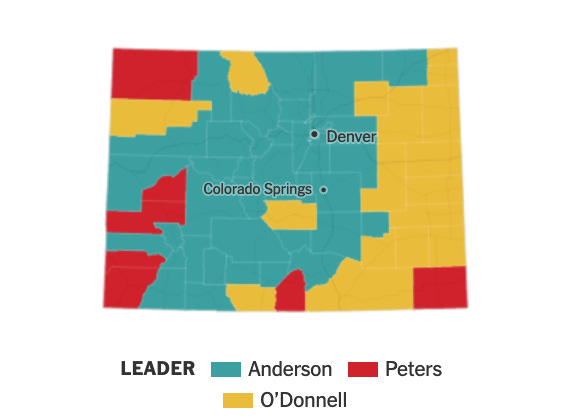 Does this scenario seem remotely possible to you?
Something stinks in Colorado.