This line isn't in the White House's prepared remarks. Biden threw it in because he memorized it and keeps using it.
As a dog returns to its vomit, Biden returns to his totalitarian applause line.
Biden added that "no amendment to the Constitution is absolute. You can't yell 'fire' in a crowded movie theater and call it freedom of speech. From the very beginning, you couldn't own any weapon you wanted to own. From the very beginning of the Second Amendment existed, certain people weren't allowed to have weapons."
That was earlier this month.
Whoever wrote Biden's speech did not put in the "crowded movie theater" line. They knew it was a bad idea. One of the more infamous Supreme Court rulings that anyone who cares about civil rights loathes. Not only was it overturned, but everyone on the Right and the Left hates it because it's a dumb and dangerous cliche justifying governmental abuses of power.
by Allen Williams

The state's attorney general and Secretary of state are not doing their jobs. The legislature has authority over elections and election integrity. The attorney general should be enforcing the will of the people concerning allegations of election fraud.

Are they all drinking from Flint's contaminated water supply in Lansing?
In Matt Deperno's elections forensic report he indicates that 66,194 ballot voter IDs not found in the October registration database.  - https://www.thegatewaypundit.com/2021/04/huge-news-attorney-matthew-deperno-releases-michigan-elections-forensics-report-66194-unregistered-ballots-tallied-just-9-counties/
Michigan has absolutely NO election integrity whatsoever, people could just as readily have voted on pieces of toilet paper. What exactly is the function of this legislature besides threatening attorneys?
The recent Antrim county forensic analysis has revealed Dominion voting machines have engaged in fraudulent activities in the 2020 election in this county leading to false election results.  Redacted analysis files in PDF format that demonstrate these anomalies may be downloaded from attorney Matt Deperno's website at  https://www.depernolaw.com/.  And rest assured that they are also republished on http://newpatriotsdblog.com

Is anyone in this august legislative body capable of understanding that these directors are under the direct influence of the communist party?
Attorney Matt Deperno has posted the court approved forensic analysis results citing specific acts of fraud committed by the voting hardware and software.  Here are some of the key findings, images from the report are not reproduced here:
The Antrim County forensic analysis contradicts the claim that Dominion Machines were not, could not be connected to the internet.: "The Dominion ImageCast Precinct (ICP) machines have the ability to be connected to the internet (see Image 11). By connecting a network scanner to the ethernet port on the ICP machine and creating Packet Capture logs from the machines we examined show the ability to connect to the network, Application Programming Interface (API) (a data exchange between two different systems) calls and web (http) connections to the Election Management System server. Best practice is to disable the network interface card to avoid connection to the internet. This demonstrated a significant and fatal error in security and election integrity. Because certain files have been deleted, we have not yet found origin or destination; but our research continues.   
The forensic analysis revealed that Dominion did NOT tabulate the data based on 1 person 1 vote but was a 'weighted' tabulation: A high "error rate" in the election software (in this case 68.05%) reflects an algorithm used that will weight one candidate greater than another (for instance, weight a specific candidate at a 2/3 to approximately 1/3 ratio). In the logs we identified that the RCV or Ranked Choice Voting Algorithm was enabled (see image below from the Dominion manual). This allows the user to apply a weighted numerical value to candidates and change the overall result. The declaration of winners can be done on a basis of points, not votes. [Image :
"The Dominion software configuration logs in the Divert Options, shows that all write-in ballots were flagged to be diverted automatically for adjudication. This means that all write-in ballots were sent for "adjudication" by a poll worker or election official to process the ballot based on voter "intent". Adjudication files allow a computer operator to decide to whom to award those votes (or to trash them). 5. In the logs all but two of the Override Options were enabled on these machines, thus allowing any operator to change those votes. [Image 9]:"

The adjudication ratio should be no more than 1 in 250 unless you need more to steal an election.

"Michigan now admits after 'certifying' the 2020 Presidential election, that more voters should be removed from their voter rolls than there were votes won by Joe Biden in the race.  Mixed with other suspected fraud, (like 141,000 ballot drops at 6am the day after the election) all the ballots in this state should be forensically audited to determine the full extent of the election fraud." - https://www.thegatewaypundit.com/2021/02/michigan-removed-177000-voters-voter-rolls-january-certifying-biden-won-michigan-154000-votes-november/ 

What does it take to get you people to realize the signs of a stolen election?

There are similar problems with electronic voting machines in other states, Antrim County is NOT an isolated incident.  However the lack of investigation by the state's officials is quite revealing.
Massachusetts also uses the Dominion voting machine in the majority of its counties. Dr Shiva Syyadurai running for the US Senate in 2020, "won in Franklin county – where votes are mainly hand-counted – by nearly 10%, but lost 60% to 40%, by 20 points, with near consistency, in every other county, where the votes are mainly counted by machines that converted the paper ballots into BALLOT IMAGES, which were then analyzed to tabulated the votes using electronic software.  "
Doesn't anyone in this legislature think it somewhat suspicious when a candidate loses by near the same margin of (60/40) in every county where machine tabulation occurs but a hand counted one? What do you think the statistical probability of that event repeating itself throughout the entire state is? Dr. Shiva was also a victim of Dominion's weighted average algorithm.:" Dr. Syyadurai, not a lawyer, faced off with the Secretary of State William Galvin and won the right to present an amended complaint (see Case 1:20-cv-12080-MLW). Judge D. J.  Wolf.." -  
https://turcopolier.typepad.com/sic_semper_tyrannis/2020/12/dr-ayyadurais-wins-key-victory-in-election-fraud-case-by-larry-c-johnson.html?
In Windham Hew Hampshire the "..disturbing November 3, 2020 general election results [showed].. a massive discrepancy between the machine vote tally for the State Rep race on election day and a hand recount 9 days later. The recount showed a difference of 1,363 votes for the State Rep race being shifted with only 10,006 ballots were cast. That is a big discrepancy – and we need to know why! "
Doesn't Michigan have procedures for removal of malfeasant officials in state government?

Does Michigan have a legislative body or a vigilante assembly? I demand action against Rep. Cynthia Johnson for advocating violence against Attorney Matt Deperno.  The people of Michigan would be better advised to upgrade their elected officials and their 'supposed' representatives of both political parties in the next election cycle.
Stop representing special interests and start representing the constituency that elected you!!
We the people demand the Michigan legislature perform a full audit of dominion voting machines for every county throughout the state.
'We the people' demand action in restoring election integrity, reversing documented fraud and certifying only legitimate election winners. 
This action is under your purview, not the courts. Start assuming responsibility and perform your legislative duties by honoring your oaths of office or GET OUT of the legislature.

by
Alex Caldwell
MyPillow CEO Mike Lindell announced today that his company, MyPillow, will sue Dominion Voting Systems for $1.6 billion. Lindell made this announcement during the official launch of his new social media platform, Frank Speech.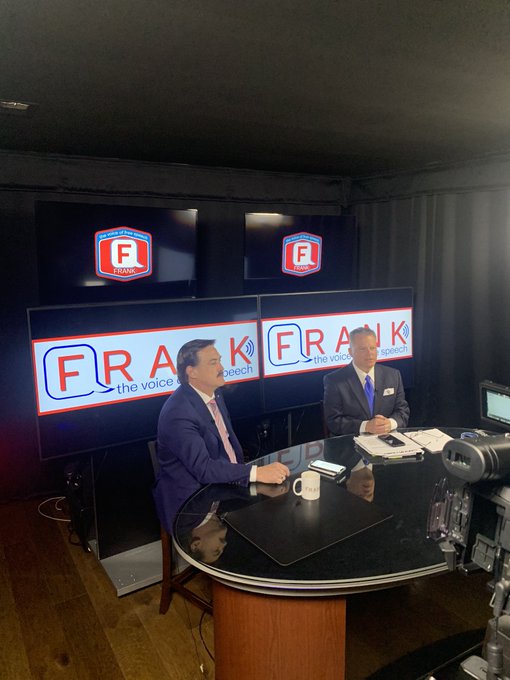 Dominion filed a lawsuit against Lindell for $1.3 billion in February, alleging defamation from Lindell accusing the voting company of election fraud. Lindell previously announced on Steve Bannon's War Room: Pandemic podcast that he had planned to retaliate legally against Dominion for their violation of Americans' First Amendment rights. "You're also going to have MyPillow going after Dominion in a counter suit and that's going to your First Amendment speech," Lindell said.
Lindell also announced that lawyer Alan Dershowitz was joining his legal team. Dershowitz described the case as being potentially one of the biggest cases for free speech and the First Amendment.
by Project Veritas

[NEW YORK -- Apr. 13, 2021] Project Veritas released a new video today exposing CNN Director Charlie Chester, who admitted that his network engaged in propaganda to benefit Biden's candidacy during the 2020 election to the detriment of then-President Trump. Chester also said CNN has a pre-determined agenda when reporting on COVID-19 and climate change.
CNN Technical Director Charlie Chester: "Look what we did, we [CNN] got Trump out. I am 100% going to say it, and I 100% believe that if it wasn't for CNN, I don't know that Trump would have got voted out…I came to CNN because I wanted to be a part of that."      

Chester: "[Trump's] hand was shaking or whatever, I think. We brought in so many medical people to tell a story that was all speculation -- that he was neurologically damaged, and he was losing it. He's unfit to -- you know, whatever. We were creating a story there that we didn't know anything about. That's what -- I think that's propaganda."

Chester: "We would always show shots of him [Biden] jogging and that [he's] healthy, you know, and him in aviator shades. Like you paint him as a young geriatric."
Chester: "I think there's a COVID fatigue. So, like whenever a new story comes up, they're [CNN's] going to latch onto it. They've already announced in our office that once the public is -- will be open to it -- we're going to start focusing mainly on climate."
Source:
https://www.projectveritas.com/news/part-1-cnn-director-admits-network-engaged-in-propaganda-to-remove-trump/