PUB-ED - The Public Education System is a Failure

Another Notch in Obama's Failed Education Legacy
Robert Holland, RedState
For almost four decades, education and fiscal analysts have sought in vain for evidence showing the benefits of the massive federal aid that has been funneled through the U.S. Education Department (USED). A research report left on USED's website two days before the end of Barack Obama's administration confirms what many have suspected: Substantial federal spending alongside strict regulation helps schools improve not one iota. READ MORE

Education Abuses..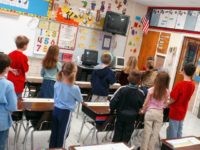 Teacher Sentenced for Sex with 14-Year-Old Student

Queens teacher arrested and fired for taking a 16-year-old student to a hot-sheets motel for a videotaped romp
Schools Installing Cameras In High School Bathrooms; Parents Outraged Over Disgusting Privacy Violation
Teaching your children..
A political science professor at a two-year community college in California is coming under fire for advocating that students should blatantly violate laws he says perpetuate "white supremacy."
George Will on Govt Funded Higher Education..
Joy Pullmann,
School Choice Weekly
Late last month, the Nevada Supreme Court heard oral arguments in a case challenging the Silver State's education savings account program, which has never been implemented because of the lawsuit. If or when it gets off the ground, the program would apply to nearly all K–12 children in the state. That would make it both the nation's largest school choice plan, and a significant test for the workability of education savings accounts.
LEARN MORE
Joy Pullmann, School Choice Weekly
In Wake County, North Carolina – the state's second-most-populated county, parents are exploring options other than the traditional public schools. "I have met people almost on a daily basis who are escaping Common Core Standards via home education because the traditional system is failing their families," local homeschool leader Lynne Taylor told School Reform News.
READ MORE
<<BACK   
{Film-Media}