Thousands of prominent political and business figures are congregating in Davos, Switzerland, this week for the annual meeting of the World Economic Forum (WEF), whose theme, "Cooperation in a Fragmented World," focuses on the "cost of living crisis."
In recent years, the WEF and its founder and chairperson, German engineer and economist Klaus Schwab, generated controversy by promoting ideas such as the "The Great Reset" and the "Fourth Industrial Reich Revolution."
In promoting "The Great Reset" in 2020, Schwab said the COVID-19 "pandemic represents a rare but narrow window of opportunity to reflect, reimagine, and reset our world."
The WEF's 2016
vision for the future
— "Welcome to 2030. I own nothing, have no privacy, and life has never been better" — has also raised eyebrows.
In its mission statement, the WEF claims "it is independent, impartial and not tied to any special interests."
The statement continues:
"The Forum strives in all its efforts to demonstrate entrepreneurship in the global public interest while upholding the highest standards of governance. Moral and intellectual integrity is at the heart of everything it does."
However, critics describe the WEF as a "fanatical political organization masquerading as a neutral entity" with the goal of "centralizing power into the possession of hand-picked global elites" and for operating with no public input or accountability.
Some critics argue the WEF's annual meeting "acts as the go-to in-person, invite-only, closed to ideological outsiders policy and ideas shop for the global ruling class."
Statements emerging from this year's meeting have done little to quell concerns about the WEF's real agenda.
The Defender examines some of the key themes of this year's meeting — taking place under a militaristic security blanket and amid accusations that participants are not practicing what they preach when it comes to their own behavior.
by Patriots Staff


Platteville Police Sergeant Pablo Vazquez, left, and Fort Lupton police officer Jordan Steinke, right, were charged for their role in the train collision that left Yareni Rios-Gonzalez, upper center, critically injured.
Two Colorado cops were charged this week for their role in the incident that left a woman critically injured after she was placed in the back of a patrol car with handcuffs which was then struck by a freight train.
Yareni Rios-Gonzalez, 20, suffered multiple broken bones but survived.
Fort Lupton police officer Jordan Steinke – who placed her in the back of the patrol car – was charged with two felonies, including criminal attempt to commit manslaughter and second degree assault, according to a press release from the Weld County District Attorney's Office.
And Platteville Police Sergeant Pablo Vazquez – who parked the car on the tracks – was charged with several misdemeanors, including five counts of reckless endangerment and one count of obstructing highway or other passageway as well as a pair of traffic citations, including careless driving and parking where prohibited.
Vazquez was hired despite being labeled by colleagues at a previous job as an "incompetent" cop with a "dangerous lack of radio awareness," according to CBS Colorado.
Rios-Gonzalez was charged with one felony count of menacing for allegedly pulling a gun on another driver in a road rage incident.
The incident took place on September 16 after police received a 911 call from a man claiming a woman in a pickup truck had pulled a gun on him.
Vazquez spotted Rios-Gonzalez in the truck and pulled her over. He said she did not immediately pull over but eventually did after crossing a set of railroad tracks.
Vazquez pulled up behind her, leaving his patrol car parked on the tracks. He then stepped out and ordered her out at gunpoint.
Steinke then pulled up behind his patrol car and stepped out with her gun drawn. She then handcuffed Rios-Gonzalez while Vazquez began searching her truck for the alleged gun.
Meanwhile, the freight train came barreling down the tracks, blowing its horn but body camera footage shows the cops did not immediately react at first.
It was only until moments before the train struck the car that the cops seemed to remember the handcuffed woman in the back seat.
The three suspects each received a summons with a court date and were not arrested, according to the district attorney's office.
Watch the videos below.
https://pinacnews.com/index.php/2022/11/09/colorado-cops-charged-for-leaving-handcuffed-woman-in-patrol-car-before-it-was-struck-by-train/


by Allen Williams
This doesn't surprise me. This life threatening trans-humanist material will be INJECTED into anything edible because a depopulation agenda can't wait for you to drink the cool aid. It has to be forced so the rules are:There aren't any rules. Expect this phenomenon to worsen as more information about the destructive nature of the vaccines gets out…

Bayer Partners with BioNTech to Develop mRNA Vaccines, Drugs for Animal
This could be one of the most alarming warnings yet from Dr. Malone. He wrote an essay on how mRNA vaccines are being injected into livestock and companion animals….That means, if you consume the vaccinated animal, the mRNA vaccine enters your body.
As Dr. Malone states "we must develop alternate food systems.
Dr. Malone cites many more examples. You can read his entire essay on his Substack located here. When asked if the government would mark packages as "vaccinated meat," Dr. Malone said this, "I wouldn't count on it.  In fact, I bet – no."
We can choose to not use their "health care providers."  We can be our own – independent people outside of their hellscape."  Time to find a trusted, local meat farmer in your area…
Why would you expect anything other than 'nothing to see here..just go about your business…', etc.
by Allen Williams
This is somewhat of a departure from my typical product evaluations because I did not buy the vendor system, I merely repaired it. For those of you who are unfamiliar with Digital Command Control products, it is a dedicated control system that breathes life into the model railroad hobby.

Recently I was contacted by my adopted son who experienced an operational loss of his model railroad command system. Because he had bought a new house and had not been able to use it fairly regularly, as with all electronic products, it simply died. When he turned the system on there was no response. Checking the track power revealed less than a 1 volt output!

In his case, the system capacitors were suspect since that is usually the first components that fail. I have had to fix many devices that I purchased, including TV monitors and digital to analog converters so one can view new digital programs on an analog TV, because the filter or other capacitors failed.

We live in a throw away society despite all the hoopla about 'green products' and re-cycling but the real problem is people don't fix things anymore, they just buy new. And manufacturers are quick to force this decision by making their products difficult or impossible to repair due to their choice and method of packing components.
Model Rectifier Corporation has been an exception to the packed component layout concept in this market. Note the wide spacing and component oversize in their arrangement. This not only makes replacement easier but dissipates heat as well.  The finned components left and right are transistor and SCR heat sinks.There is one switch (upper left) which turns on the power with the green diode, immediately right which indicates signal transfers and flashes to indicate shorts. The main chip (brains) of the system is just to the left of the two 500 Micro Farad (uf) capacitors.

Near the center of the board (bottom) is the green terminal for supplying power to the track.

Power capacitors seen from the bottom of the MRC board .
The capacitor to the left (off the board) is one that I replaced while I spot checked the fit (from the board bottom) of the largest 4700 uf capacitor.
The four largest capacitors are the ones I replaced. I also checked the resistors and full wave rectifier bridge diodes for open or shorted conditions.The photo shows the large 4700 Microfarad - uf filter capacitor (bottom of photo) as I checked the spacing in the printed circuit underneath. Replacing this component raised the output to 1.6 VDC. It was not much of an improvement but it suggested the companion capacitor (1000 uf) maybe shorted. Actual testing revealed the second largest capacitor of 1000 uf was leaky so its installation brought the unit's voltage to around 22 volts!

The last picture is the small temporary layout consisting of some straight and curved track that I used to verify repair.The two 500 uf capacitors were also replaced (Lower left corner) which caused the unit to begin communicating with the MRC CAB controller. Once these signal capacitors began working the command unit began to develop the correct 15 volt output.
Video of Test: https://www.sitejabber.com/reviews/modelrectifier.com#video_3599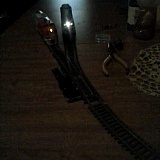 Finally, I made a brief AVI film clip video on the repaired MRC system to demonstrate how effective it was. I had talked to the MRC tech to get specific responses regarding the system. I found them surprisingly friendly and they gave me good information on how the various systems interfaced. However, I was really surprised when the tech said the program track section operated at 12 volts which could eliminate the need for a program booster card. Sure enough, I was able to reset the decoder cab address on my North folk and Western locomotive (but not with the Atlas Commander), used in my short avi film to demonstrate the system repair. The locomotive had been damaged some years ago during a short circuit derailment on my own Atlas DCC system and my Commander failed to reset it. I had originally thought that the brief short had damaged the locomotive.
The Atlas commander reduces the track voltage for its programming efforts to prevent chip damage if the locomotive decoder chips has not been installed.correctly.

Physical Track Test Layout in Short Film Above
The last picture is the small temporary layout consisting of some straight and curved track that I used to verify repair. You can see the new 4700uf capacitor and its companion next to it in the lower right hand section of the board near the aluminum heat sink.

The locomotive is a Santa Fe FT- A diesel used to check the decoder registries. You can see the locomotive headlight is on correctly responding to the DCC command to turn the light on via the MRC controller. Once the unit began operating for about 30 minutes it started functioning like the original product.
Being able to affect a system repair so easily adds both life extension and value to the product and I would certainly recommend its purchase. The MRC Prodigy Advance system is still available.
Tip for consumers

MRC stocks a number of NMRA DCC control systems, including the Prodigy Advance system I repaired, all economically priced.
Products used:
MRC Prodigy advance