by Pam Geller
Staple Street owns Dominion and is a relatively small private equity company, who has not raised capital or had substantial new investors since 2014/2015 of about $200 million. But now after a rushed Delaware Corp., filing October 5, 2020, Staple notified U.S. SEC 10/08/20 they're expecting $800 million minimum. Yet Staple Street's website is suddenly shut down, except for the base page.
"
Staple Street Capital is a private equity firm founded in 2009 based in New York. The co-founders Stephen D. Owens and Hootan Yaghoobzadeh are veterans of The Carlyle Group and Cerberus Capital Management, also the Board members of Dominion Voting. The official website of Staple Street Capital has deleted the team introduction
"
It is absurd and outrageous that a United States elections system is hidden inside of a NY private equity fund.
https://warren.senate.gov/imo/media/doc/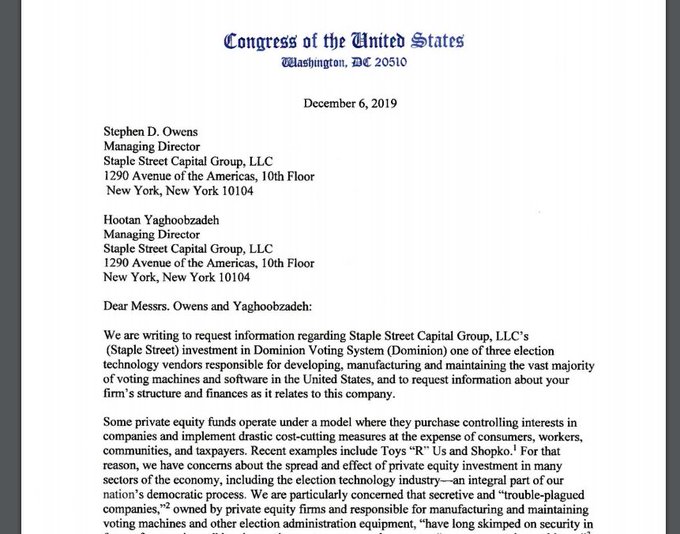 Note: Maybe we now know why Staple shut down most of their website to hide portfolio holdings especially Dominion as

well as indicating William E. Kennard is an Executive Board Member of Staple Street Capital who worked for The Carlyle Group and served as Bill Clinton's FCC Chairman until 2001
. Nominated as ambassador to the EU by Barack Obama in 2009, he was managing director of the Carlyle Group(2001-2009) where he led investments in the telecommunications and media sectors. -
ED
https://gellerreport.com/2020/11/look-who-owns-dominion-voting-systems-politically-motivated-private-equity-ny-hedge-fund.html/