The judge in the Antrim County lawsuit says he will not allow discovery entered late in the game, saying
"discovery is closed."
Previously,
DePerno
had requested discovery to expand to other counties but, on Monday, DePerno requested an expansion to other townships within Antrim County. The judge stated that "the court rules require us to move precipitously…and I advised attorneys at the beginning" of that expeditious timeline. The hearing can be viewed
here
.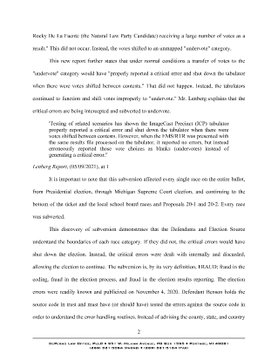 Attorney Matt DePerno filed a
supplemental brief
for Monday's hearing for the Antrim County election lawsuit with 13th Circuit Court Judge Kevin A. Elsenheimer.  In the brief, DePerno claims that the Mar. 26, 2021 analysis by expert Alex Halderman has been debunked by the
testimony
from expert witness Jeffrey Lenberg, as
reported by UncoverDC
on May 7....
https://uncoverdc.com/2021/05/11/deperno-denied-additional-discovery-but-antrim-lawsuit-still-in-play/