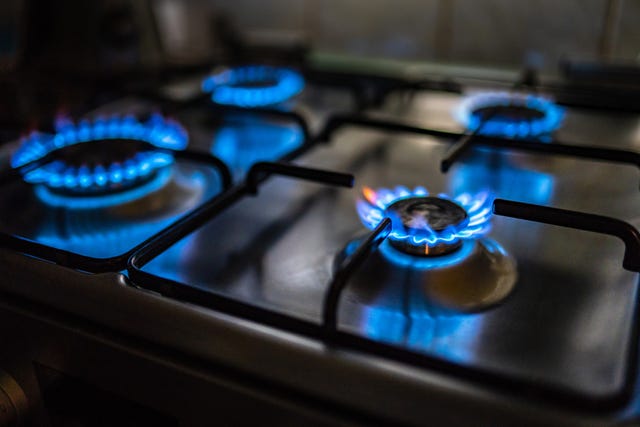 For basically forever, gas stoves have been the preferred cooking appliance of professional chefs and at-home gourmets alike. They offer far greater temperature control compared to their electric counterparts, and there's just something special about cooking over a live flame vs a glowing red coil. But lately, gas stoves have come under fire … uh, figuratively.
The hoopla began earlier this month when Consumer Product Safety Commission (CPSC) Commissioner Richard L. Trumka Jr. told Bloomberg that his agency was considering a ban on gas stoves in the US. The reason for a potential ban, Trumka cited, was related to health risks posed by natural gas stoves, as numerous studies have shown that the fumes they emit cause significant health risks. These risks potentially include cancer and respiratory illness, but the strongest evidence links their use to childhood asthma. (A recently-published study from the peer-reviewed International Journal of Environmental Research and Public Health found that nearly 13% of childhood asthma in the US was caused by gas stoves.)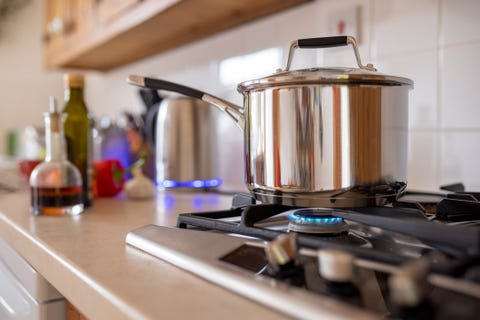 SolStockGetty Images
Trumka's quote set off an absolute firestorm of panic about gas stoves. Much of that panic came from the right-wing media machine, which seemed more than happy to open up yet another battlefield in their ongoing culture wars as red meat to feed to their base (cooked on a gas stove, naturally). With deluded fears of federal agents breaking down their doors and dragging out their gas stoves, many people began to see the gas stove as a symbol of freedom against government overreach. But let's take a deep breath (away from the gas stove, please) and look at what's actually going on with your gas stove.
No one is coming to take your gas stove
Even if gas stoves do end up being banned in the US, that doesn't mean you'll have to give up the stove that's already in your kitchen. "We are not looking to go into anyone's homes and take away items that are already there. We don't do that," Trumka told CNN in an interview. Any potential ban would only apply to new products, and not the 40% of US households that already have a gas stove, as the commissioner went on to explain. "If and when we get to regulation on the topic, it's always forward-looking. You know, it applies to new products. Consumers always have the choice of what to keep in their homes and we want to make sure they do that with full information."
The president opposes a gas stove ban
Even if you don't own a gas stove currently but are hoping to buy one in the future, you shouldn't anticipate any federal ban going into effect as long as President Biden is in office. The 46th US President is against banning gas stoves, according to White House spokesman Michael Kikukawa, who was quoted in the New York Times as saying, "The President does not support banning gas stoves. And the Consumer Product Safety Commission, which is independent, is not banning gas stoves."
However, even without federal intervention, gas stoves will likely be harder to come by in new buildings in the future, as a number of cities (and a few states) have already enacted or are looking into bans that would prohibit natural gas lines from being built into new construction, effectively banning gas stoves along with gas furnaces and water heaters.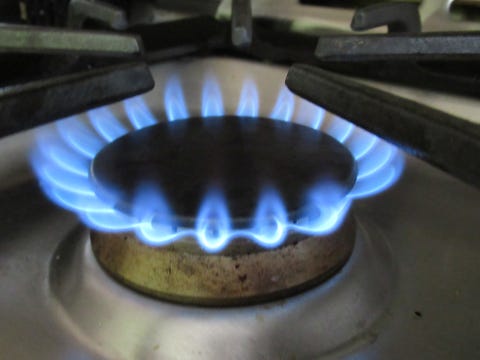 Photography by Keith Getter (all rights reserved)Getty Images
What to do if you have a gas stove
Given the dangers associated with gas stoves, you may want to consider swapping yours out if you have one. While the government won't be forcing you to do so, it will incentivize you to exchange your stove for an electric one. The Inflation Reduction Act, signed into law by the Biden Administration last year, allows for rebates of up to $840 for the purchase of a new electric stove and up to an additional $500 for the cost of converting your setup from a gas one to an electric one.
If you do insist on cooking with gas, or if your situation doesn't allow you to pursue other options, there are some safety measures you should consider. Proper ventilation can greatly reduce the risks associated with gas stoves, so always be sure to open the windows in your kitchen (or those closest to your kitchen) and turn on your range hood if you have one to mitigate the negative effects of gas cooking.