by Joe Hoft


A former Dominion employee for 10 years who represented Dominion in certifying its Pennsylvania implementation of its 'Democracy Suite' in 2017 now works for the government agency that certifies voting machine systems.
Jeff Carlson at the Markets Works created a report in November about the Voting Machine Certification Process:
An understaffed tiny federal agency and 2 private testing labs responsible for certification of nation's voting systems
The fallout of the Nov. 3 elections has put the spotlight on the integrity of electronic voting machines used in the United States. In response, authorities have pointed to certifications of the machines as a safeguard against potential systemic problems with the voting machines and their software.

A deeper look into the certification process used for the machines, however, reveals that the main certification agency in the United States, the federal Election Assistance Commission (EAC), maintains an unexpectedly small staff, and one of its chief employees is a former executive of
Dominion Voting Systems
.
Carlson was referring to Jennifer Bowers who worked for Dominion for 10 years:
Notably, the EAC doesn't mention Dominion in Bowers' bio, just some 'voting system manufacturer'.According to Carlson, Bowers actually represented Dominion in Pennsylvania's certification of Dominion voting machines:

"Kathy Boockvar, just two weeks after she was appointed as Pennsylvania's Secretary of the Commonwealth, concluded in a Jan. 2, 2019 report (pdf) that Dominion's "Democracy Suite 5.5A" voting machine "can be safely used by voters at elections," and certified the Dominion voting systems in Pennsylvania.
Representing Dominion in that process was Jessica Bowers, director of certification for Dominion. In addition to Pennsylvania, Bowers appears to have been responsible for the implementation of Dominion Systems into a number of other states, including California, Colorado, Nevada, and Tennessee."
However, after enjoying a 10-year career at Dominion, Bowers would find her way into a new career path at the federal Election Assistance Commission (EAC).

It's unknown how the EAC maintains its independence in interactions with Dominion with Bowers now on their team.  This information is not provided.
What's most concerning is that with all the issues recently reported surrounding Dominion voting systems around the US, how can the government entity that oversees this process remain independent with Bowers as their Acting CIO/CISO?
by Pam Geller
Staple Street owns Dominion and is a relatively small private equity company, who has not raised capital or had substantial new investors since 2014/2015 of about $200 million. But now after a rushed Delaware Corp., filing October 5, 2020, Staple notified U.S. SEC 10/08/20 they're expecting $800 million minimum. Yet Staple Street's website is suddenly shut down, except for the base page.
"
Staple Street Capital is a private equity firm founded in 2009 based in New York. The co-founders Stephen D. Owens and Hootan Yaghoobzadeh are veterans of The Carlyle Group and Cerberus Capital Management, also the Board members of Dominion Voting. The official website of Staple Street Capital has deleted the team introduction
"
It is absurd and outrageous that a United States elections system is hidden inside of a NY private equity fund.
https://warren.senate.gov/imo/media/doc/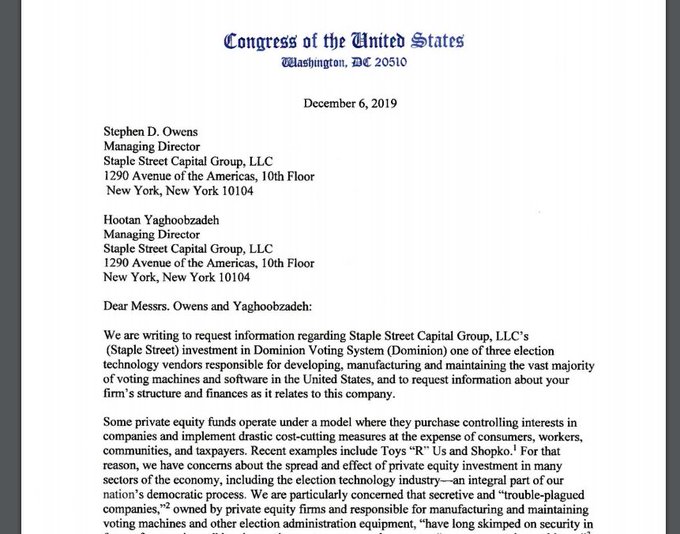 Note: Maybe we now know why Staple shut down most of their website to hide portfolio holdings especially Dominion as

well as indicating William E. Kennard is an Executive Board Member of Staple Street Capital who worked for The Carlyle Group and served as Bill Clinton's FCC Chairman until 2001
. Nominated as ambassador to the EU by Barack Obama in 2009, he was managing director of the Carlyle Group(2001-2009) where he led investments in the telecommunications and media sectors. -
ED
There Was Massive Fraud in This Election" – Inventor of QR Code Can Prove It
President Trump has the law and the US Constitution on his side.
Back on November 6th, only three days after the election, retired Intel Operative Tony Shaffer, said not to worry, the President has the Constitution on his side and will win the election.
SNIP..SNIP...

IT Expert Jovan Hutton Pulitzer, the inventor of platform known as 'QR Code' which is on about 12 billion devices around the globe, believes ballots can be scanned to determine validity.
"When I started looking at ballots… I realized that everybody was speaking geek…It's a real simple fact to prove that there was massive fraud in this election."
"…We can take the physical ballot, the image scan of the ballot in the machine, the CVR file in the machine, and I can even take a shredded bag of ballots and do what we do.  I want everybody to understand these physical ballots from the election, when they go into the machine, it basically makes a duplicate copy.  That's your property as an American citizen.  We own it for 22 months after the election.  And so when these courts started saying, well you can't look at it, I realized it was all technical smoke and mirrors, to fool judges, to fool lawyers, to say oh we can't really do it.  So let me tell you how easy it is…"
Source